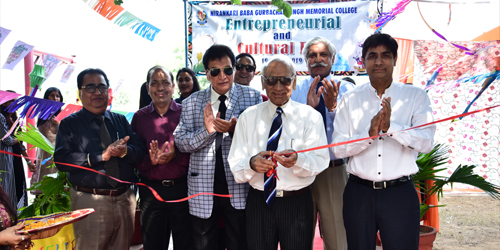 Entrepreneurial and Cultural Fest 2019
On 19th October 2019, Personality Development Department and Entrepreneurial Development Club organized the Entrepreneurial and Cultural Fest 2019 in NBGSM College, Alwar Road Campus.
Rev. S.S Sethi Ji, Secretary Governing Body, Rev. Vinod Babbar ji, Treasurer, Rev. M.S. Khatri Ji, Principle NBGSM College and Rev. R.S. Manhas Ji, President, NBGSM College inaugurated the programme with the ribbon cutting and lamp lightening.
At the beginning of the program Rev S.S Sethi ji gave their blessings to the students. President and the Principal of the college addressed the students with their speech. This was followed by the inauguration of the stalls by the management. The stalls were put up by the students of both the campuses and sold their ideas of food items, handmade items, games etc. Students also put the exhibition of innovative idea of products. Students were participated in competitions of Cultural and Art & Craft Activities (Dance, Singing, Rangoli, Photography & Painting). The winners of the competitions were awarded. It was a fun-filled programme managed by staff and the students of NBGSM College.